New documentary salutes transgender 'AIDS diva' Connie Norman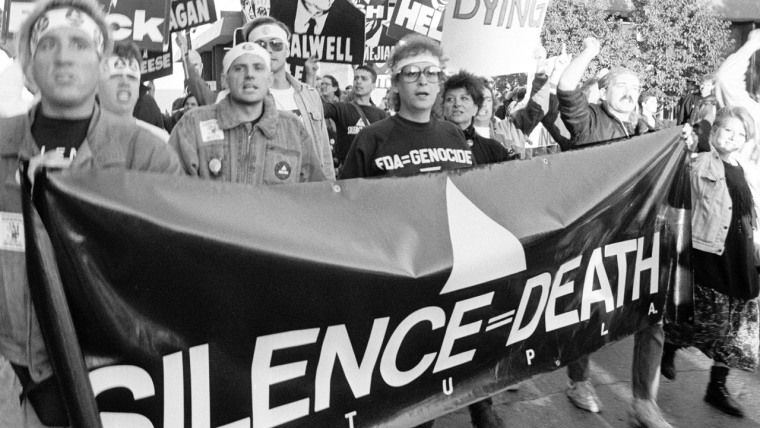 AIDS activist Connie Norman in the documentary "AIDS Diva: The Legend of Connie Norman."Courtesy Chuck Stallard
An outspoken leader in AIDS activism is finally getting her due 25 years after her death with the documentary "AIDS Diva: The Legend of Connie Norman," screening Oct. 17 as part of NewFest, the New York City LGBTQ film festival.
"AIDS Diva" was a title Norman, a transgender woman and ex-sex worker who overcame addiction and abuse to become a leader in ACT UP L.A. in the late 1980s, gave herself. It was a hint at the warm, humorous woman behind the forceful activist who got arrested, went on hunger strikes and carried a bullhorn like it was an extension of her hand.
"We're not doing enough!" Norman can be seen shouting at fellow demonstrators in one clip from the film. "You're not doing enough, I'm not doing enough. And AIDS is not going away!"
Director Dante Alencastre has documented the experiences of other transgender women, including youth activist Zoey Luna, [email protected] Coalition founder Bamby Salcedo and the trans community in Lima, Peru. He was looking for his next subject when a friend suggested Norman.
"I had heard of her, but I knew very little," said Alencastre, who moved to Los Angeles 14 years ago. "Almost like she was a ghost from the past."
Around the time he started his research, someone put up an alumni page on Facebook for members of the L.A. chapter of ACT UP, or the AIDS Coalition to Unleash Power. They used Norman's picture for the cover photo.
"I immediately reached out and said, 'I want to talk to anyone who knew her,'" Alencastre said. "It was like opening up Pandora's box."
He was put in touch with Peter Cashman, a journalist and founding ACT UP L.A. member, who appears in "AIDS Diva." Cashman filmed Norman extensively and had boxes full of VHS tapes.
"He told me he never looked at them, but we were welcome to use whatever we wanted," Alencastre said. As he digitized hours of Norman's interviews and speeches, he said he could tell how ahead of her time she was.
"I was kind of surprised by the frank and explicit way she would talk about herself," he said. "Back then, I imagine people were taken aback. But she was bold enough to make an audience look beyond her appearance. There was no consciousness of trans back then. There was no 'T' in LGBT."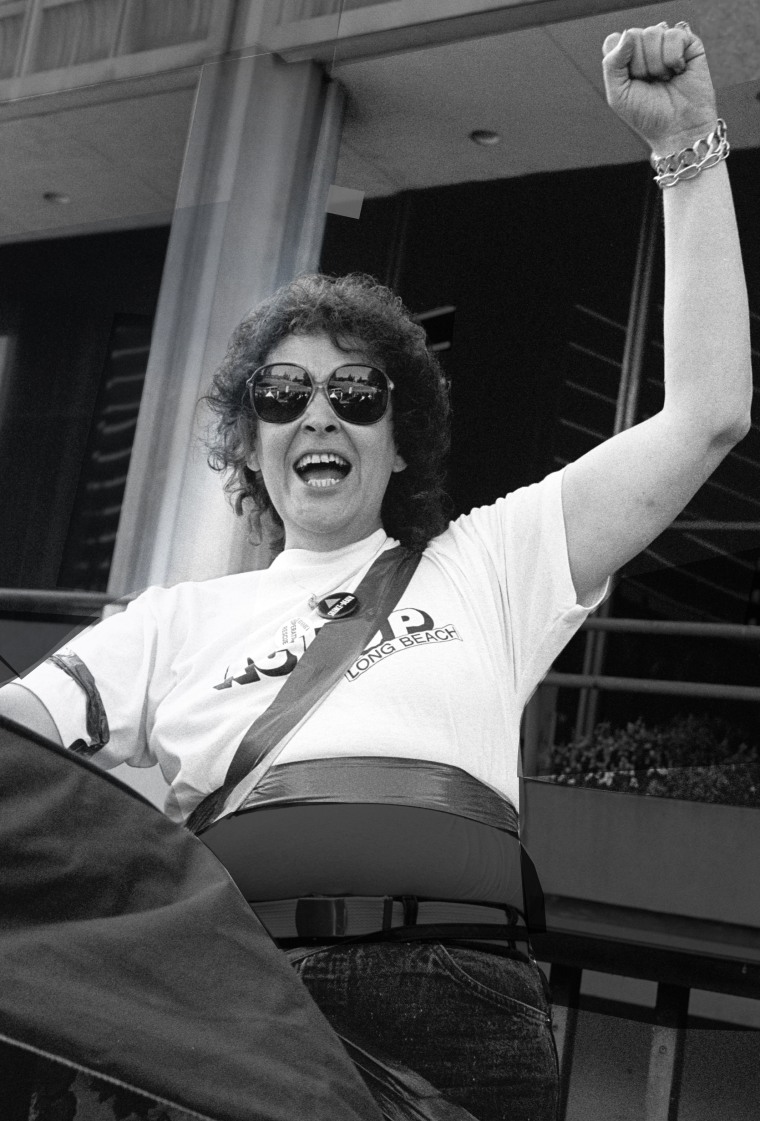 Michael Weinstein, president of the L.A.-based AIDS Healthcare Foundation, recalls working alongside Norman and credits her willingness to engage with friends and foes alike.
"She'd speak to people I would ignore, who I didn't think were worth the time of day," Weinstein said.
One of those people was Wally George, a conservative Southern California talk show host whose stage she appeared on. (In "AIDS Diva," we see Norman stand up to taunts from George's audience.)
"She believed that through the force of her personality and her words she could get people to think and feel," Weinstein added. "And she succeeded a lot more often than I thought possible."
Being a professional activist requires a thick skin and a loud voice. And Norman had both.
"She had a mouth on her. Thankfully it was connected to a mind," David Reid, producer of XEK-AM's short-lived "The Connie Norman Show" radio show, told The Pride in 2016. "And she was a she; on many occasions, I heard her say, 'I paid $50,000 to be who I am, and I get to pick my pronouns.'"
Torie Osborn, director from 1987 to 1993 of what was then known as the L.A. Gay and Lesbian Center, said it was sometimes shocking to see the anger Norman could summon with a megaphone.
"She'd say, 'Oh, I'm just a Midwestern girl.' But I don't think she ever forgot her struggles or where she came from," Osborn said.
That ferocity was tempered with a genuine sweetness, Osborn added. "I think it's a gift of the LGBT community to be both tough and soft, if we allow ourselves to access those parts. And Connie did, absolutely."
Longtime transgender activist Valerie Spencer, who was mentored by Norman, jokingly called her "a fake and a fraud."
"Publicly she was this bombastic warrior. People thought 'Oh here she comes!' And, yeah, she could shake the building with her vibrato," Spencer said. "But inside, she was so tender. She gave me jewelry — a beautiful garnet necklace. … At the heart of who she was, she was a tender pussycat."
"AIDS Diva" co-producer John Johnston remembered Norman lending him her jacket to keep warm during a vigil at the University of Southern California in 1989.
"In the height of everything, even as she was battling for her own life, she'd ask if you were OK," Weinstein said.
Born in small-town Texas, Norman ran away from home at 14 and lived on the streets of Hollywood before getting off drugs and transitioning in the mid-1970s. She was diagnosed with HIV in 1987 and soon became active with local AIDS groups.
"I often tell people that I am an ex-drag queen, ex-hooker, ex-IV drug user, ex-high risk youth and current postoperative transsexual woman who is HIV-positive," Norman told The Los Angeles Times shortly before her death in 1996. "I have everything I ever wanted, including a husband of 10 years, a home and five adorable longhaired cats. … I do, however, regret the presence of this virus."
She didn't have the education or polish of other activists, but she had the survival skills she learned on the streets, Spencer said. And more important, "she was a person confronting her own mortality and the lack of compassion in our society. When you're in that situation it can just fuel you with a powerful rage."
Among other roles, Norman was director of public policy for the All Saints AIDS Service Center in Pasadena, California, and sat on the L.A. County Commission on HIV. She wrote a bimonthly column, "Tribal Writes," for the San Diego gay magazine Update and co-hosted "The Gay and Lesbian News Magazine," a cable-access show out of Long Beach, California.
On all those fronts Norman called out those she felt had allowed the epidemic to continue, either through action or inaction, including the Reagan and Bush administrations, the FDA and the state of California. When Gov. Pete Wilson, a Republican, vetoed a bill that would have prohibited discrimination against workers because of sexual orientation, Norman helped lead a march on the state capital in Sacramento.
"It boils down to how much you want to live," she wrote of her advocacy in POZ magazine in 1995.
"I want to be here on this planet every minute that I can and I'm willing to do whatever I can do — comfortably — to stay here," she said. "Sue me, but I believe that all of the medicines and all of the prophylactics are eventually going to come up against this virus and lose. You can either sit and wait for that to happen or you can go ahead and live your life."
Norman threw herself into her activism until the end, likely at the expense of her own well-being.
The post  appeared first on NBC